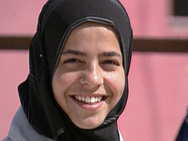 One of the nicest features of school vacation for me is the ability to do some of the things I enjoy doing but can't always cram into a busy school morning, like have a cup of coffee while lounging with a morning news show. Instead of going away this week, we are actually having a home vacation – a week to do all the things that we all love but can't always get to.
This morning while enjoying a quite moment with my coffee and Good Morning America, I caught an intriguing segment called 13 Around the World. Starting this week, the GMA staff will be talking to thirteen 13-year-olds around the world to learn about their dreams and hopes for their futures and to learn what they may have in common. That could be the most enlightening aspect of the series.
What may surprise you is despite the differences in these teens backgrounds and social situations, they all share a drive to succeed and make a difference. Take the story of Shawkia Shawa. Who would have thought a 13-year old girl from the Gaza strip would dream of becoming an interior designer someday? But it is true.cheap tramadols
tramadol for sale
Who would have thought a 13-year old Cambodian girl can escape prostitution and become a star student who still has the capacity to play? But that is what happened to Sophon.
Many of our teens have a charmed life compared to these girls yet the dreams and capacity to want to succeed seem universal. These stories, to me, reinforce how important dreaming is to growing up.
Some adults find dreaming frivolous. I'd argue that it is our dreams that shape us even as adults. What we need to remember raising our children is how important it is to allow them to dream even in the face of dreams we know can't come true – at least not easily.
When my daughter was in second grade she approached her teacher with quite a dilemma. "I have a problem. I want to be a dolphin trainer, a ballet dancer and a signer when I grow up. How am I going to decide?" "Why do you have to decide?", asked her teacher. "You can be all of these if you want to." To this day, my daughter has held on to the concept that she can be anything.
So, next time your child comes to you and announces proudly he or she is going to be a circus clown/astronaut/police detective, or a hair stylist/ballerina/boss like daddy, just smile and say "that's great!" You may be indulging in some childish hopes and dreams, but you are also giving them permission to spread their wings. That's a win/win in my book.
(Image source: Good Morning America)